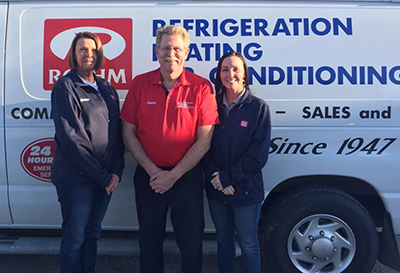 We have been servicing the Terre Haute community and surrounding areas since 1947.
We are a family-owned and operated business.
Over 140 years of combined service and install experience.
We sponsor and donate to the local youth sporting teams.
We support and donate to the local Terre Haute Police Department's community improvement programs.
Our company prides itself on our commitment to our customers and community.
Most of our new business comes from satisfied customers and their referrals to friends and neighbors.
We solve all home comfort problems including air filtration, humidity, zone temperature control, and all of your other indoor air quality needs. Our trained and experienced professionals will provide you with expert analysis of your comfort systems combined with superior installation services that guarantee optimal performance from your equipment. All this combined with industry leading York heating and cooling products that have earned the Good Housekeeping Seal means that you will have a reliable and efficient comfort control solution for your family or business. It's Time to Get Comfortable, so call ROEHM REFRIGERATION for your York Heating and Cooling needs.
ROEHM REFRIGERATION, INC. is a leader in providing value-added services to our customers by creating a successful partnership. Our purpose is to establish lasting relationships with our customers by exceeding their expectations and gaining their trust through exceptional performance by every member of the ROEHM team.
We are located at 117 North 12th Street and have been in business since 1947. Having the right people installing and servicing your heating, air conditioning and indoor air quality equipment is just as important as choosing high quality products. The good news is that with ROEHM REFRIGERATION of Terre Haute, you get both!
We hire, train, motivate, and reward based on three main hallmarks: Integrity, Personal Responsibility, and Commitment. We expect our ROEHM team members to perform to high standards with enthusiasm and willingness to serve our purpose. We encourage our customers to fill out satisfaction guarantee cards to evaluate their service experience. 99% of our customers rated us a 9 or above on a 1-10 scale.
Our formula for success begins with our customers "winning, or, in other words, being very satisfied with our company. Next, we strive to ensure our ROEHM team members "win," finding our company a great place to work and to create a fulfilling career. When our customers and team members win, then our company will win as well.